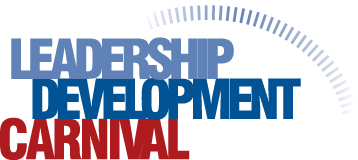 The November 2013 Leadership Development Carnival is rich with contributions by thought leaders who are taking leadership to new levels of excellence in varying organizations across the globe. Thanks to Dan McCarthy for the opportunity to host this month's Carnival and to all of you who took the time to contribute.
This Carnival focuses on employee engagement with contributors responding to the following:
Employee engagement is the emotional commitment an employee has to the organization and its goals, resulting in the use of discretionary effort. How then, can an employer raise the level of discretionary effort?
So, settle in and continue your leadership learning.
Dan McCarthy of Great Leadership says leaders who want to create a culture of innovation should try putting air in balloons.
Mike Henry Sr. of Leadership Change Group says raising engagement is key to an organization's success. One way to raise engagement (and there are many) is to value employee contribution. When leaders and organizations can create room for employee contributions, take suggestions, encourage initiative, remove fear of failure, they create an environment where people want to contribute. Julie Winkle-Giulioni wrote about this in a great post titled The Kids Table on Lead Change Group blog.
Mark Phelps of Talent Management intelligence says "The best way to engage employees and keep them that way is to create an engaging work environment. The only way to create and maintain an engaging work environment is to develop engaging leaders at all levels. Here's how to do that: Be Better Than Average."
Linda Fisher Thornton of Leading in Context says an employer can raise the level of discretionary effort employees contribute by intentionally leading with the highest ethics. Consistent ethical leadership is transformational, bringing out the best in people, and making work meaningful and fun.
Karin Hurt of Let's Grow Leaders says leaders should encourage employees to take charge of their own careers, and make the best of every situation. Here's what to do if your boss is disengaged.
Michael Lee Stallard of E Pluribus says employee engagement is the #1 blind spot of leaders today. The best leaders gain the emotional commitment of people by making an emotional connection with them. With few leaders doing this well, the average leader engages only 3 out of every 10 employees. The best leaders engage 6 or more out of every 10 employees. How many employees are your leaders engaging?
Randy Conley of Leading with Trust says trust is the key to creating an engaged workforce that readily gives of their discretionary effort. In his post, Build Trust Today or Lose Talent Tomorrow – 3 Tips to Keep Your Top People, Randy shares his advice on how leaders can build and nurture high-trust relationships.
Jim Taggart of Changing Winds says as much as we read about the need for senior leadership to "empower" others, in reality this is false. As leadership practitioner Harrison Owen has stated: "If I empower you to some extent you are still within my power." Therefore, employment engagement can only be achieved through self-empowerment. Learn more from Jim's perspective by reading his post "Call Me Nick!" Leadership in Running Shoes.
Beth Armknecht Miller of Executive Velocity says an employer can raise the level of discretionary effort within their organization by insuring their managers are prepared to lead and not just manage. Read her post titled Three Steps to Keep Employee Engagement High.
Frank Sonnenberg of FrankSonnenbergOnline says today and in the years to come organizations have to focus on winning employees back; building trust, respect, and teamwork between people; and once again instilling employees with pride in and commitment to the organization. That all begins with Rewarding Today's New Breed of Employee.
Neal Burgis, Ph.D. of Practical Solutions says the companies that get engagement right enjoy a surplus of competitive advantage in talent strategy and business results that is hard for others to replicate. Learn more from his perspective on how to raise the level of discretionary effort here.
Lisa Kohn and Robyn McLeod of Chatsworth Consulting Group say know what matters to your employees to raise their level of discretionary effort. Rather than exerting authority or offering incentives, look for ways to include and influence employees, seek their input, and understand what matters to them. As a result, they will buy into your organization's goals, understand the path to the goal, and be excited and eager to contribute."
Chris Edmonds from Driving Results Through Culture says to raise employee engagement and, over time, to boost employees' application of discretionary effort, leaders must make employee engagement a priority. Leaders build employee engagement when they explain the context for decisions and actions, when they include employee input on decisions and actions, and when they reduce employee frustrations in the workplace. Learn from his success with this approach.
Julie Winkle Giulioni of DesignArounds says tapping the discretionary effort gap begins with understanding what factors are causing employees to give less than their all (30% less on average according to Impact Achievement Group research), then responding with a set of practices designed to enable 100%+ achievement and performance. Read how to close the gap here.
Tim Milburn of Developing Lifelong Leaders says discretionary effort comes down to people feeling free to do what they want to do beyond what they have to do. The employer plays a key role by empowering employees to move beyond their job descriptions. I was once told that the best use of power is to give it away. With this in mind, an employer with the right motives will embody the kind of leadership that others want to follow.
John Hunter of Curious Cat Management says managers need to focus on eliminating the ways in which the organization de-motivates people. John brings us two posts to learn how to do so – Build an Environment Where Intrinsic Motivation Flourishes and Practical Ways to Respect People.