About
Tom Walter, serial entrepreneur, is best known as the Chief Culture Officer of the award-winning Chicago Caterer, Tasty Catering. He started his first business—a fast food restaurant called Tasty Pup—in 1971. From that humble beginning to today, Tom has participated in the startup of 32 additional companies and the acquisition of three others.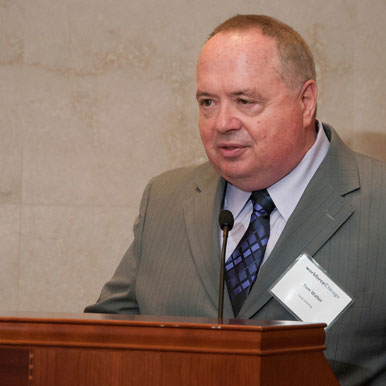 As the CCO of Tasty Catering, Tom and his team have created, nurtured and led an employee-focused culture that has amassed over 20 "best places to work" awards, such as Forbes America's Best Small Companies, Psychologically Healthy Workplace Awards, Crain's Chicago Best Places to Work and Inc. Magazine & Winning Workplaces Top Small Workplaces Winner. He was inducted into the Chicago Area Entrepreneurship Hall of Fame in 2010.
Tom's experiences have made him a sought-after speaker and expert on company culture, employee engagement (entanglement), entrepreneurship and leadership. See his past appearances here. His views and advice for both new and seasoned entrepreneurs are often featured in the press, including Inc. Magazine, The Daily Herald, Wall Street Journal, Entrepreneur, Chicago Tribune, Crain's Chicago Business and Forbes.
In 2012, Tom and his three co-authors wrote It's My Company Too!, a business text that explores how the highest-performing organizations "entangle" employees, systems, culture and leadership into a unified drive for excellence and realizations of extremely high levels of success.
Tom has also co-written two articles that have been published in peer-reviewed journals. Along with John Blattner, Ph.D., he wrote "Creating and Sustaining a Highly Engaged Company Culture in a Multigenerational Workplace," which was published in Strategic HR Review 2015 Vol 14 4 E. This article also had the honor of being selected by the journal's editorial team as the Outstanding Paper in the 2016 Emerald Literati Network Awards for Excellence.
Additionally, with Kenneth R. Thompson, Ph.D., and Grace Lemmon, he wrote "Employee Engagement and Positive Psychological Capitalism," which was published in Organizational Dynamics Vol 44, No 3.
Tom resides in Elk Grove Village, IL, with his first investor and wife of over 40 years. He maintains a close personal and professional relationship with his two children, both of whom have founded their own Tasty Catering "sister" companies in addition to a range of responsibilities within several of Tom's own companies. Tim Walter—CFO and founder of TF Processors and iMotorSports, et al—and Erin Walter—CEO and co-founder of nuphoriq—continue to utilize Tom's wisdom and experience in their own ventures.
Upcoming Appearances
There are no upcoming events.
Reviews
Tom is an absolute GEM! I was fortunate enough to not only hear a presentation from him at Ball State University in the Spring of 2019, but also had a few moments of one-on-one time after the talk. During his presentation, he showed genuine care for our students, brought insight and knowledge I KNOW our students benefited from, and was complete transparent and at full attention with every encounter I saw him have. He is not only generous in sharing his experiences and teaching, but also has such a kind heart full of positive energy! Even as a constantly podcast listening, presentation watcher, and book reader, Tom still shared information that I had never heard or considered before. If you get the opportunity to talk with Tom, make sure you hold onto each and every word!Kyleigh Mazer, Business Advisor at Indiana Small Business Development Center
Tom Walter is the real deal! He presents and engages the audience with his insight wisdom and incredible experience. A genuine leader and human being that backs up every message with real life stories, credibility and intrigue. Great speaker great person!Gina Cronican, Organizational and Management Development at Ag Processing Inc
Tom continues to set the standard for building and maintaining a great corporate culture. As a business owner, I am inspired by how he continues to motivate and inspire his team. Employees are our most valuable asset, and Tom has used that mindset to develop award-winning companies.Craig Zoberis, Certified Systems Integrator at Universal Robots
University of Wisconsin-Milwaukee students had a great opportunity to have Mr. Tom Walter come in and talk to a few business organizations about how to run a business. Mr. Walter also talked about how to value employees on a personal level to make the company better. Overall every student gained valuable lessons from the speech that Mr. Walter gave. We would love to have him come to our campus again to give another speech. Sai Karri, Student at University of Wisconsin-Milwaukee
Tom came to the University of Colorado-Colorado Springs to discuss the importance of culture and employee development when creating and maintaining a world class organization. I was so impressed by his message that I invited him to come to our MBA management course that evening; he humbly accepted and ended up leading the course for the duration of the evening. His lessons on developmental leadership aligned with our course topics perfectly; his entrepreneurial spirit was contagious and inspired an ethical perspective for leadership for students to see in action. Seth Bainbridge, Special Projects Manager of Graduate Programs College of Business
We had the privilege of having Tom Walter speak at our Human Synergistics Global Change Circle Forum. He shared his amazing story of the cultural transformation that Tasty Catering has undergone as well as some personal stores of the employees. Tom was so engaging and passionate about the many businesses under the Tasty Catering umbrella that he had the audience captivated throughout his hour presentation. To hear and see the work they have done is so inspiration and motivating to all. His authenticity was what really got to me, and it's so powerful to see that from a CEO. All of our clients and staff are still talking about his presentation, and we can't wait to have him speak again for us! Alysun Johns, Accreditation and GCC Coordinator at Human Synergistics
Tom Walter's book "It's My Company Too!" provides unique insight into the challenging world of efficient managing in a understandable and relatable manner. I read the book as a supplement to a managerial course, and I felt that the variety of stories and examples throughout the text helped me conceptualize how the topics I have been learning about would be applied to the real world. The book highlights the challenges and solutions that any company might face, and in a heartfelt and strategic way. It's a must read for employees, managers, and leaders in any field of work!Alyssa Hochberg, University of Maryland
I had the honor of seeing Tom Walter present at The First Annual Culture Conference in Chicago in September 2015. As the speaker who followed him noted, Tom is clearly one of the "most interesting" people of all time and I would add one of the most inspiring. His insight into how to impact organizational culture to shape behavior and improve outcomes was exactly what I needed to learn from the conference. His personable and warm style is very inviting and it is clear why his companies are so successful. He is truly a gift to any organization and a wonderful speaker for anyone wanting to improve the human condition at their workplace. Hearing him speak was the perfect follow up to having just read his book "It's My Company Too" which is full of wisdom and ideas for managers and leaders looking to improve outcomes. Thanks for all you do Tom!Maeve O'Neill, MEd, LCDC, LPC-S, Maeve O'Neill Counseling
At the 2014 CEO National Conference in Orlando, Florida, we chose Tom Walter to give the leadership keynote address. Tom shared his triumphs, hurdles, and tough truths that he learned as an entrepreneur and leader to the hundreds in attendance. Tom had the entire room engaged in his speech and received a standing ovation before offering to speak with students at the conclusion of his talk. He is dynamic speaker, entrepreneur and leader. I highly recommend Tom Walter for any type of speaking engagement.Michael Luchies, Director of Content Programming, Pursuit
Tom and Ken heavily contributed to our 2014 Leadership meeting. Their 'real' life stories touched the audience feelings and generated the wish to get closer to the corporate values of the different companies they talked about, which are very similar to the ones we are pursuing. Truly insightful!Nacho Abia, President and CEO, Olympus Corporation of Americas
Tom is an exceptional public speaker… he recently gave a presentation to about 125 senior executives at one of our Executive Roundtables and blew them away! He talked from experience about how to build a high-integrity, high-performing culture that drives short and long-term financial growth. His presentation was candid, direct, highly entertaining, and full of real-world wisdom that could be put immediately into practice. I have the greatest respect for Tom as a speaker because I deeply respect his leadership. He is a values-driven leader who cares about and invests in people, and he knows how to tell his story with passion and power on the big stage. Jim Ludema, Founder and Director, Center for Values-Driven Leadership at Benedictine University
… I've tallied the program evaluations and I wanted to share the document with you. Not sure who, but one commented that it was "the best presentation ever at Golden Corridor!". The participants gave you a wonderful review as demonstrated in their comments. We found the topic very timely and your presentation upbeat and positive. We all walked away with new knowledge to apply in our careers and our lives. Linda J. Clark, CPS/CAP, Administrative Assistant, Zurich North America
Management instructors tend to preach the importance of value-based leadership, but rarely do we have the opportunity to point to someone like Tom and say – 'here – this leader is proof that you can lead with values, take care of your people, AND achieve great success'. My students were enthralled by his presentation, which was brought to life by Tom's authenticity, candor, and humor. There is no doubt that Tom's time with my students made them challenge their assumptions on leadership, as well as broadened their understanding of why putting values, and your people first, leads to success. Charn McAllister, Doctoral Candidate, College of Business, Florida State University
Tom Walter has talked to my entrepreneurship classes several times.  He is one of the most engaging, motivating and inspirational speakers I ever met. The students hardly want to leave the classroom after his talks. What is very special about Tom that he is able to combine wisdom stemming from his decades of experience as serial entrepreneur to the latest development of academic thought. In addition, he  connects with the students on a very personal level. Annaleena Parhankangas, Assistant Professor of Entrepreneurship, University of Illinois-Chicago
Tom Walter is an exceptional entrepreneur, leader, role model and mentor. I had the pleasure of first working with Tom through the Collegiate Entrepreneur's Organization, with which I've witnessed him generously mentoring hundreds of aspiring college student entrepreneurs, helping to shape the next generation of business leaders. Tom is also an inspirational and enlightening speaker; I always learn something new from his insight. Kathryn Sowa, Director of Community Engagement at Future Founders Foundation
For someone who concentrates on employee engagement, he also is a master at student engagement. Our Assistant Dean, Cathy Dubois, we present for Tom's presentation and was amazed at how the students who were initially into their iPads and iPhones, laid them down and paid close attention to what Tom was saying. Tom has many techniques that set him apart from most speakers. The infamous "Chicago Handshake" is something I will use in the future in my consulting seminars. He also is tremendous at remembering names of students he met before the talk and refers to them during the talk. He quizzes them throughout the talk and forced me to concede extra credit points, which I gladly gave them. Overall the talks were a great success. The message was clear and delivered in a way that the students could understand. I and the College of Business were very well pleased. I would recommend him to anyone wanting to put some zip into one of their functions. He delivers. M. James Smas, Associate Lecturer, Department of Management and Information Systems, College of Business, Kent State University