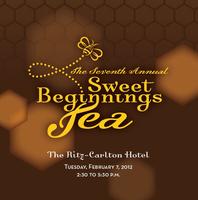 On Tuesday, February 7th, I had the pleasure of attending a fundraiser for a program near and dear to my heart.  Through this organization I have meet some terrific people with wonderful hearts and great leadership skills.
The fundraiser benefited Sweet Beginnings, a non-profit.  It took place at the Ritz Carlton tea room.  A beautiful venue filled with beautiful people and wonderful food.  We sipped tea whilst shaking hands, networking with great folks from across the city, and listening to such engaging speakers as Hosea Sanders, co-anchor/reporter of ABC 7 Chicago.  In spite of his cold and not feeling well, he was a very engrossing Master of Ceremonies.
Among the old friends I was able to see, like Sweet Beginnings CEO Brenda Palms Barber, Ron Tonn, Felicia Griffin, and Robin Beaman, I also met new friends, like Coretta Rivers of NLEN and Nathan Wright of the Etiquette Foundation of Illinois.  Now Nathan, he is a man of disappearing breed:  the perfect gentleman, as his place of employment suggests.
The afternoon paid tribute to the incredible work done by the harmonious relationship between the North Lawndale Employment Network (NLEN) and Sweet Beginnings.
Sweet Beginnings is an organization that works closely with the North Lawndale Employment Network.  The latter association works with ex-offenders and other individuals facing workplace barriers, teaching and coaching them through a variety of skill building exercises, classes, and courses.  After the course, a handful of graduates are hired by Sweet Beginnings.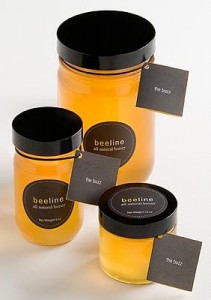 This company works with bees.  Yes, bees, right here in Chicago!  They raise the bees, learn about the bees, harvest the bee honey and turn it into a product.  They sell honey, lip balms, body creams, and lotions among other skin care products from the Beelove product line, simultaneously giving ex-offenders a steady income and perhaps more importantly, job experience and skill building in production and marketing to better prepare participants for life outside bars.
At the fundraiser, we saw films of the apiaries, and you will never guess where the bees are located…O'Hare Airport.  Right there in the grasslands of O'Hare.  The bees go out and pollinate local plants, extract the plant nectar, then return to the apiaries and make honey, churning valuable resources from otherwise unusable land.
Also on film were the stories of two very special people who won NLEN Impact Story awards – Joseph Jones and Tiffany Chinn.  We also heard numerous testimonials detailing the incredible work done by Sweet Beginnings and NLEN.
For a long time, theNorth Lawndale community has struggled with poverty and crime, with many convicts and felons seeing multiple jail sentences for crimes committed post-release.  Sweet Beginnings and NLEN aim to abolish that, and they are doing an astonishing job.  The percent of Sweet Beginnings ex-offenders that end up back in prison is an unheard of four percent.  Clearly, this organization is doing something right, and it deserves the attention.
The organization is what it is in large part due to its leaders, like Brenda.  In fact, I was so enamored with Brenda and the organization, that my colleagues and I chose them as one of the focus companies in our up and coming book:  It's My Company Too!  We immersed ourselves in Sweet Beginnings, using academic theories as support to find out how Brenda, Ron, Felicia and the entire Sweet Beginnings and NLEN organizations accomplish changing a person's approach to life so they become a meaningful member of society on a daily basis.
There will be more on that book project to come, however, because right now, we're celebrating Sweet Beginnings, and all you need to know about this remarkable organization can be found on their website, www.sweetbeginningsllc.com.