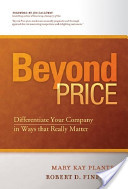 Kay Plantes is an MIT educated economist. She has been a friend and business confident for several years.  Her book, Beyond Price, provides great insight into how commoditization can destroy a business.
I thought this blog, and the five points she poses, should be read by you.  Some of these points I have heard from other "practicing" economists and financial advisors.
Her point about "disrupt your business before someone else does" is contained in almost every book on strategy that I have read.  This is a poignant, to the point, discussion that is easy to understand and apply to your business.  You may link to her blog through the links on the right of the home page.
Remember to ask, "What business are we in?"
By Kay Plantes
If, as a company leader, you did not lose a heartbeat over the bankruptcy filing of Kodak, Barnes and Noble, Blockbuster and AMR Corporation (American Airline's parent) or Google's pending purchase of Motorola phones, you should have. When previously solid businesses run out of cash, there are lessons to be learned. In particular, never forget the vital strategic question, "What business are we in?"
Too narrow an answer, like Kodak's "film" or Blockbuster's "video store," positions your business to be disrupted by a better solution. Look what stand-alone digital cameras and smart phones have done to film or what Netflix's more convenient mail-order DVD model did to Blockbuster. A change in consumer preferences also leads to disruptions as Netflix found out with the surge in on-line media streaming.
Too broad an answer to the question "What business are we in?" or an out-of-touch-with-the-market answer is similarly fraught with problems. Sears failed in trying to sell soft goods like sheets and clothing alongside appliances and hardware. A new owner got it wrong again when he combined Sears with Kmart as a real estate play as a recession and the Internet's disruption of retail created an abundance of space. Spectrum Brands erred in assuming synergies from combining a bunch of third-rate brands with Rayovac batteries would cover debt payments. Falling into the same trap by combining community newspapers, Lee Enterprises went belly-up.
Rapid consolidation in an industry indicates competitors have the same business definition and their business models are commoditized, as we saw in pharmaceuticals, banking and accounting and law firms. Smart leaders in these industries will ask, "How might I change my business concept and value promise to break out of the commodity pack?"
These industries aren't alone. Many companies are being challenged by the definition of their business. In the age of Google and Wikipedia, what is the public library (or a teacher for that matter) today and why should it exist? What is a school textbook publisher in an iPad/Kindle on-line information age? What is a newspaper business in the era of free? How should health insurance companies redefine their business as policy changes?
Here are five principles to guide your search for an answer to the question, "What business are we really in?"
Never stop asking the question. Otherwise, you leave the answer to history, industry practices, your founder's preferences or serendipity.  Leadership's highest value contribution is to regularly reflect upon and define the company's domain and build differentiated business models anchored in hard-to-copy advantages within this domain.
There are many ways to focus the answer. Apple's domain appears to be defined around its value promise – saving time, increasing usefulness and reducing frustrations of computing. The value promise has taken Apple from computers to music players to cell phones to mobile computing, and soon TV and textbooks. IBM on the other hand defines its business around capabilities, moving from hardware to services.
Disrupt your business before competitors do or you'll have your own Kodak moment . Kodak invented digital photography and e-mail photo sharing but did not aggressively pursue the market to preserve its lucrative film business. No customer will pay you merely to preserve your shareholder value, executive bonuses or privately owned company wealth.  If there is a better answer, your customers will head in that direction, and today they do so at a faster and faster clip.
Purpose matters more than mission.  Mission is about "what," purpose about "why." Purpose deals with beneficial outcomes, a more strategic business concept than a description of "what" you do. Kodak's mission was to make the best film, but film's deeper purpose is preserving memories (photography) and capturing images (healthcare and movies).  Adopting a broader definition of its business would have pointed Kodak to richer directions than the film-like business of printer ink cartridges that they later pursued.
Cost effectiveness wins the day. Competition drives business models towards the lowest possible cost.  It's why the parent company of American Airlines had to declare bankruptcy. News organizations and catalogue companies that center their business models in print had best relearn Economics 101 as it is finally pertinent.
What business are you in? The answer is not in your boardroom, management team or your past.  Be curious and listen to a widely diversified set of external voices and inputs to keep your mind alert to new answers. You'll help your company not only survive, but thrive.